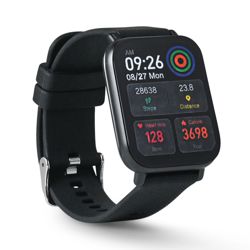 Model: 21201
Wearable Health Devices (WHDs) are increasingly assisting people to better monitor their health status both at an activity and fitness level for self-health tracking and at a medical level providing more data to clinicians with the potential for earlier diagnostic and guidance of patient treatments. The ZMT Smart Health Watch is fully integrable and connects to mobile devices with the free Zewa Fit Pro App for iOS and Android. Experience this high-quality connected watch and enjoy all the facets of a Color Touchscreen Display, Customizable Home Screens, All-Day Activity tracking of time, steps, distance, and calories. Monitor Pulse Measurements, Body Temperature Measurement, Oxygen levels, and Sleep Monitoring. Additional features include Reminder and Alarm Functions, Call & Message SMS Notifications. Compatible with Zewa-Fit Pro app for Android and iOS devices. Available in the App store.

All-Day Activity
Time, steps, distance, calories burned.

Heart Rate
Continuous heart rate measurement.


Program up to 5 alarms per day.

Connects to Android and iOS mobile devices.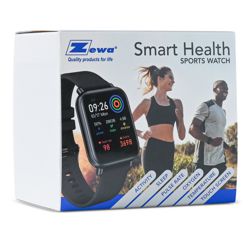 Product Includes:
1 x Smart Watch