SpaBuddy Sport - OTC TENS
SpaBuddy Electrotherapy Pain Management device provides pain relief by soothing and stimulating sore, aching muscles with electromassage therapy (also called TENS). This effective technology has been used for decades by physical therapists to relieve chronic and acute pain as well as sore and aching muscles. Now you can take advantage of the same professional technology used by physical therapists easily and safely in the comfort of your own home. Simply place the electrodes on top or around the area causing you the most pain, select 1 of 8 programs and turn up the intensity to your desired setting. It's that easy. Features 8 programs, 30 intensity levels, 5 - 95 min. timer and a button lock feature to protect the device from accidental changes. Includes TENS Device, 4 Electrodes, Batteries and instruction manual.

8 pre-set TENS Programs provide different treatment options.

2 Independent Channels offer the flexibility to use 2 or 4 electrodes on different body locations.

30 Intensity Levels make it simple and quick to individually adjust each channel's strength.

Count Down Timer indicates when device will turn off. Set between 5 - 95 minutes or continuous.

Button Lock Feature locks all buttons to avoid accidential setting changes.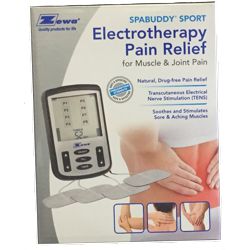 Product Includes:
1 x TENS Unit

4 x Electrodes

2 x Lead Wires

1 x Storage Bag

3 x AAA Batteries

1 x Instruction Manual